Genetic Test for Inherited Eye Disease
₹14,000.00
This test is a must for anyone who has a family history of inherited eye diseases, like Glaucoma, Cataract, blurry vision, weak eyesight, etc.
Eye health is one of the most important aspects of a healthy life. Yet, more and more people are affected by eye problems, and this number is increasing day by day. Nutritional deficiency, spending more time on screens, lack of physical activity and increased stress levels are a few common reasons to blame. However, there is a critical role of our genes in deciding eye health. Today, we can predict the risk of an eye problem using genetic testing for eye disorders. If you have a family history of eye diseases, you should get our Eye Health DNA Test.
What is an Eye Health DNA Test?
Genetic Testing for Eye Disorders and inherited eye disease is a popular eye health test in various parts of the world. The good news is that, at DNA Forensics Laboratory Pvt. Ltd., we are now introducing the world-class Genetic Testing for Inherited Eye Disease in India. The Eye Health DNA Test is one of the most accurate, efficient, and dependable Genetic Testing for Inherited Eye Disease in India and the world. It enables you and your eye specialist to predict any possible eye disease and plan for its treatment in advance.
According to genetic ophthalmologic researchers, genes are the most critical factor in determining eye health in an individual. The Eye Health DNA Test is especially beneficial for children and younger adults, who spend long hours on their electronic devices and might be at a higher risk of getting an eye disease.
Genetic Testing for Inherited Eye Disease is also recommended if your close relatives also had an eye disease. The Eye Health DNA Test helps your doctor and nutritionist to intervene and help you avoid getting an inherited eye disease in the first place or effectively treat the same in time.
What is the Need for Eye Health DNA Test?
The Eye Health Test is advanced genetic testing for eye disorders and is for anyone who-
Has weak eyesight.
Spend more time on electronic devices, like a computer, mobile, tablet, and TV.
Have poor food habits.
Have nutritional deficiencies affecting eyesight.
Are diabetic, hypertensive (high blood pressure), or have a family history of these diseases.
Has a history of eye diseases in the family, like Glaucoma, Cataract, Nearsightedness, Retinal Occlusion, etc.
What do You get in the Eye Health DNA Test?
The Eye Health DNA Test report covers the following conditions:
Risk of Diabetic Retinopathy – Damage to the retinal blood vessels in Type 1 and 2 diabetic patients. It impairs vision and can often lead to loss of eyesight.
Risk of Glaucoma – Condition where the nerves connecting the eyes and the brain are damaged.
Risk of Cataract – Cloudy deposition in the lens of the eyes, hindering vision. It is common in old-age people.
Risk of Myopia – It's a condition where the patient can see nearby objects clearly, but the far objects appear blurry or unclear.
Ocular Hypertension – An eye condition where the intraocular pressure (pressure inside the eye) is high due to fluid buildup. It builds up due to the inability of the eyes to drain the accumulated fluid.
Age-related Macular Degeneration – An eye problem where the central field of vision is impaired while the peripheral vision is normal.
Increasing lifestyle risks, degrading nutritional value of the food, and numerous other factors are responsible for various eye problems. Above all, genetics is one of the most critical factors in determining your eye health. Genetic testing for eye disorders can help you and your ophthalmologist assess the possible risk of an eye problem. This, in turn, enables the ophthalmologist to help you avoid getting the disease in the first place – thanks to the Eye Health DNA Test.
The contents of this website are for informational purposes. Go to our disclaimer page.
Steps involved in Genetic Test for Inherited Eye Disease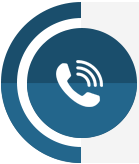 Order our Sample Collection Kit online or via a telephonic call. You will receive the kit at your address via a fast courier service.
1
Once you have received the kit, please fill the form included, follow the steps to collect the DNA sample, pack it, and send the kit back to us.
2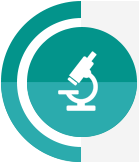 Once we receive your kit at our testing facility, a team of experts run the test using modern & state-of-the-art technology and generate your test report after careful analysis.
3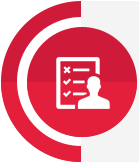 A Soft Copy of your test report is sent to your registered email ID. You can also opt for a physical print of your Genetic DNA Test Report.
4
Why DNA Forensics Laboratory is the Best?
Simple and comprehensive report.
Test done in four easy steps.
World-class lab infrastructure, with the latest technology and equipment.
Team of highly qualified and experienced molecular biologists, geneticists, bioinformaticians, and computer scientists for data analysis.
The lab is equipped with the state-of-the-art Illumina instrument, which is a world leader in genetic technology.
Accuracy and sensitivity of >99%. Competitors may use lower sensitivity and outdated equipment, which may not be ideal for the accuracy of the final results.
Your test and personal data are protected by a robust system of information security.
ISO certified: ISO 27001:2013 (Data security) and ISO 9001:2015 (quality management system to consistently provide products and services that meet customer and regulatory requirements)
We believe in quality rather than quantity: We report conditions that are well studied and reported and do not get into the race of more markers.
Our report and bioinformatics algorithms take the genetics of Indian ethnicity into account.
Team of geneticists, molecular biologists, computer scientists, and genetic counselors with many years of experience.
About DNA Forensics Laboratory
DNA Forensics Laboratory Pvt. Ltd. has been one of the most trusted DNA testing companies in India for various genetic testing services. With the introduction of genetic testing for eye disorders and inherited eye diseases in our portfolio, we are now offering the Eye Health DNA Test and other genetic tests at attractive prices.
Highly qualified and experienced professionals, hundreds of collection centers across India, a state-of-the-art testing facility, and a dedicated customer support team make us one of the best for an Eye Health DNA Test in the world.
Call now on +91 8010177771, or WhatsApp us on +91 9213177771 to learn more or book your Eye Health DNA Test in India.
Have any questions?
Ask Directly to Our Expert!
Please fill in the given below form and our executive will contact you.
What Clients Say About Us!
Hi, I am a Data Analyst. I had a weak eyesight since I was very young. My grandma also had cataract, so my ophthalmologist suggested me to get a DNA test for eye disease risk prediction. I got the Genetic Eye Disease Test from DNA Forensics Laboratory. The test report showed that I was at the risk of getting other eye diseases too and need to take extra care. It also helped my nutritionist to create a customized diet plan for me for the best eye health. A great test and very useful.

Manvi Arora
Everyone is spending long time on their phones and tv today and many eye diseases are caused by genetics. A genetic test for eye disease is the answer. I am a high BP patient. My mother had glaucoma and I got concerned that if this disease is genetic, I can also get that disease. So got the test for myself. It was a detailed test and showed that I also was at risk of getting glaucoma, cataract, diabetic retinopathy. Thanks to DNA forensic laboratory, that this test helped me get proper diet and extra care to save my eyes.

Sandhya
DNA Forensics Laboratory is the best. You can get your DNA tested to check if you have the genes of a disease. I am a diabetic person, my weight is also too high. Recently I was diagnosed with high blood pressure when one day my sight got blacked out for about a minute. My doctor said that I may be at risk of eyesight loss due to my disease condition. I took the inherited eye disease genetic test by DFL. My report helped my doctor suggest to me the best diet and preventions to follow to avoid eye diseases.

Ranjan Aghi
My grandfather, father and I have nearsightedness. My grandfather got his cataract removed this year which made me worry that if my nearsightedness is genetic, can it be that I am at risk of cataract or other eye diseases? So I got the Inherited Eye Disease Genetic Test from DNA Forensics Laboratory Pvt. Ltd. Doctor saw the report and instructed me to follow a healthy diet and lifestyle. If I ever got high bp or diabetes problems by my 50s, the chances of me getting different eye diseases will significantly increase. Everyone should get this test.

Dharmesh Tyagi