Are you expecting? Did you know paternity testing is possible during pregnancy, even as early as 7 weeks gestation?
With the Non-Invasive Prenatal Paternity Test from DNA Forensics Laboratory Pvt. Ltd, it's painless, fast, and accurate. (An AABB Certified test, only prenatal test have Immigration DNA tests standards.)
DNA Forensics Laboratory Pvt. Ltd. offers 100% safe Peace of Mind Prenatal Paternity DNA Test during early stage of pregnancy. No need for any complicated and risky extraction procedures like amniocentesis. Your results will be issued in only 7 business days with > 99.9999% accuracy.
DNA Forensics Laboratory Pvt. Ltd. understands the importance of prenatal Paternity DNA test for future parents. The company offers new non-invasive prenatal paternity DNA test with an absolute risk-free process in comparison to other conventional prenatal sampling methods. This highly advanced prenatal test is performed during a woman's pregnancy to verify the paternity of the developing child. Test can be done as early as at 7 weeks from gestation and cut short the 9 months you have wait to find out the paternity of your child. Get a quick discussion for the Prenatal Paternity DNA Test sample kit with our experts available on +91 8010177771.
About this test:
The Non-Invasive Prenatal Paternity test provides accurate results you can trust in as few as 7 business days, with optional 3-day results available for an additional fee.
The test is completely safe for the mother and unborn child and can be performed as early as 7 weeks gestation.
We provide court-admissible results, which mean our processes meet strict standards for excellence and accountability.
DNA sample collection requires only a simple blood sample from the mother and cheek swab from the possible father.
This test provides 99.9999% probability-of-paternity results or higher for inclusions and 0% probability of paternity results for exclusions, just like a postnatal paternity test.
DNA Forensics Laboratory Pvt. Ltd. delivers the only test available to reliably determine paternity from a maternal blood sample as early as the first trimester during a woman's pregnancy. Only at DNA Forensics Laboratory Pvt. Ltd, we provide the facility to process every paternity test twice for maximum accuracy confirmation. Our testing laboratory test analyzes and proceeds to extract more than 2,688 SNP's sequences of DNA which we technically call Single Nucleotide Polymorphisms. Here, we provide most affordable pricing and payment methods for the test. Current prenatal paternity testing sampling methods such as amniocentesis and chorionic villus sampling (CVS) are invasive and carry the risk of miscarriage or of harming the unborn child.
As shown in the illustration below, the fetal DNA combines with the mother's DNA by passing through the placenta into the mother's bloodstream. The fetal DNA is then isolated and analyzed during the testing process.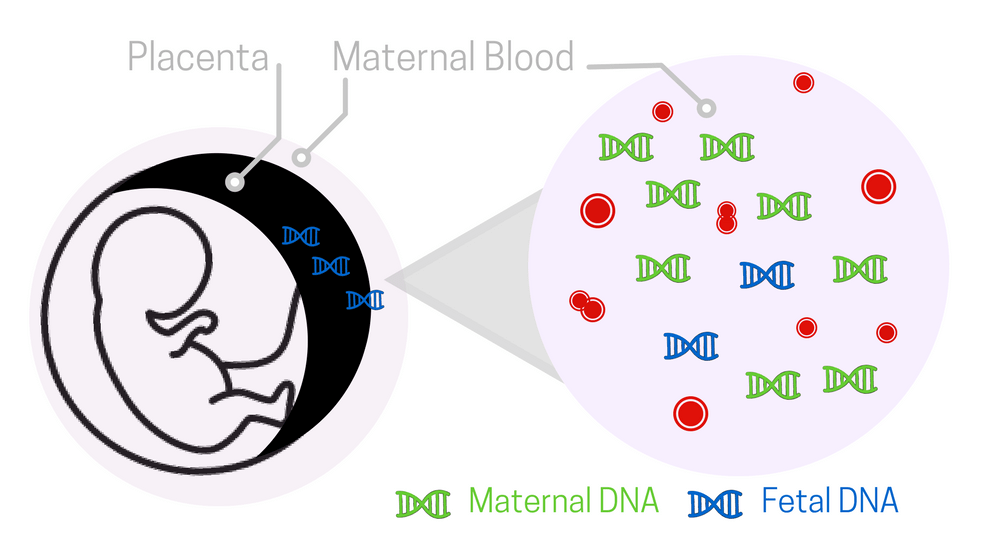 What Will the Prenatal paternity DNA Testing Kit Contain?
The sample collection kit will be send to you once your order has been confirmed; it contains all you require to collect the samples and send them back to us.
Instruction manual explaining how samples are collected.
2 x 10-ML Blood Collection Tube (Cell–Free DNABCT) for the preservation of fetal DNA in the blood sample. This tube is for the mother's blood.
3 to 4ML EDTA tube (Purple top) for collecting the alleged father's DNA sample. Or
4 mouth swabs to be used for collecting the alleged father's DNA sample.
A special biohazard bag with zip to place blood samples in.
Boxing, packaging, return labeling and collector security seal
Consent forms (please fill these out carefully and return them with your samples)
Only the DFL has strict standards of responsibility for prenatal paternity DNA testing, including analysis, doctoral review, and documentation. No DNA test from another company can qualify for AABB accreditation for the prenatal paternity test, so you can be sure your test is in good hands. AABB is the required accreditation of immigration DNA tests for various embassies.
Our company has largely focused upon helping hundreds of families and thousands of women with a vision of maximum assurance in results given by company's professionals. Prenatal paternity testing services are provided with our understanding, care and discretion, so you can get your answers without any stress to you and your baby. Moreover, the less time-consuming and simple to carry out method is a relief to clients. For more information, reach out to our experts by calling us at: +91 8010177771 or whatsapp: +91 9213177771 and get your queries answered at ease. Happy parenting!
Frequently Asked Questions
What is a non-invasive prenatal paternity test?
A non-invasive prenatal paternity test is one way to determine who the father is before the baby is born. While the mother is pregnant, the baby's DNA profile is determined from the free-floating fetal cells found in the mother's blood sample. The profile of the baby is compared to that of the tested man: his DNA is collected by a simple oral swab. A report is then generated to show if the tested man is or is not the biological father.
How does a prenatal paternity test work?
A prenatal paternity test uses the cell-free DNA of the developing fetus and floats freely in the pregnant woman's blood. This DNA can be found as early as the 7th week of pregnancy. Using our exclusive technology, DFL develops a DNA profile of the fetus's DNA and compares it to the DNA profile of the future father.
What does "non-invasive" mean?
Until recently, the only way to test paternity during pregnancy was to collect amniotic fluid with a long needle, which is an "invasive" procedure that poses a risk to the baby. "Non-invasive" means that it is not necessary to interfere in the baby's secure environment to perform a paternity test. Instead, we only collect a blood sample from the mother's arm and a sample of the father's cheek-swab.
Will a previous pregnancy affect the outcomes of a test?
No, a previous pregnancy will not affect the outcome of a non-invasive prenatal paternity test. Once a child is born, the cell-free fetal DNA disappears from the mother's blood within a few days; therefore, previous pregnancies will not interfere with the current prenatal paternity test.
Is there any difference between DFL's test and other company's tests?
Yes, there is a difference between DFL's test and other company's tests. Here are the Top 4 reasons:
AABB Accreditation: The DFL test is the first and only accredited by the AABB, an independent organization that sets standards of excellence, monitors laboratory performance, and issues accreditation when these standards are met. No other company or laboratory offers an AABB accredited prenatal DNA test. You can trust DFL to deliver accurate results.

Patient Care: Our prenatal specialists guide you through the test and are available to answer questions at every step of the process.
Testing Accuracy: DFL maintains various laboratory certifications, reflecting our commitment to quality and accuracy. You can rest assured that we are unparalleled in providing customers with the most reliable test available to date.
Full-Circle Test Management: DFL does not subcontract our tests or services. All stages of testing take place here in our state-of-the-art laboratory, so we have total control over the quality of the services we provide.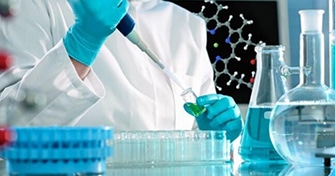 Quick Tip: Choosing the Best Lab for Prenatal Paternity Testing
Your paternity test is important and can helps in making crucial life choices. You can find companies advertising online to non-invasive prenatal paternity tests at low prices. Beware of these claims and ask to see the published research supporting these tests. If a company offers a free test after birth, it means that it does not defend the quality of its prenatal test. The NIPP test with DFL involves the most advanced scientific methods and high sequencing instruments of DNA. DFL is one of the most reliable laboratories in the world, capable of delivering quality results to our most important customer.
About the Non-Invasive Prenatal Paternity Test from DFL
For NIPP test DFL uses state-of-the-art technology combined with rigorous bioinformatics analysis to provide accurate and reliable results. DFL is the only NIPP provider to confirm the presumed father of all tests. This confirmation step is the cornerstone of AABB standards. The bioinformatics pipeline evaluates the quality of generated data and metric thresholds are used to evaluate test results. Reports are issued only if all thresholds are met. Finally, DFL has an expedited service capable of delivering results in three days from the date of receipt of the sample on additional fee.
In the laboratory, NIPP testing is done by a group of experienced and experienced technologists using next generation sequencing technology. Controls are included in all tests to ensure reliability. Each case is evaluated and signed by a doctorate specifically trained in technology and NIPP data analysis. This combination of professional staff provides superior quality assurance.
Disclaimer
Since the peace of mind test samples are not collected under a strict chain of custody or on order of honorable court by a third neutral party and the Laboratory cannot verify the origin of the samples, this test result may not be defensible in a court of law for the establishment of paternity/relationship and other legally related issues. The tested parties' names that may appear on this report have been provided by the client and cannot be verified. The laboratory assumes no responsibility for incorrect or misspelled patient information.
Summary
Author Rating
Brand Name
Product Name
Non Invasive Prenatal Paternity DNA test