Is your child living away from you? Are you worried about him or her getting involved in substance abuse? There is no need to worry anymore! At DNA Forensics Laboratory Pvt. Ltd., we are providing an alcohol detection test and drug detection test at reasonable prices. Both Drug Testing and Alcohol Testing are painless and convenient ways of making sure your loved ones are free from alcohol or drug use. This test is done using the latest methodologies for testing occasional, periodic, or regular alcohol and drug use by your loved ones.
Now, wave goodbye to your worries & concerns– get an alcohol testing or drug testing for your loved ones and save their future.
Who Should Get An Alcohol / Drug Testing?
A person who is using or addicted to alcohol or drugs may not even know that they are harming themselves. In scenarios like these, it becomes the responsibility of the family and friends to stop them. However, an alcohol or drug user/addict may intentionally hide their habit. To intervene and prompt them to take rehabilitation treatments, it is first important to find out if they are really into alcoholism or drug abuse. In such a case, the alcohol/drug detection test can help.
An alcohol/drug detection test is for the following people:
Children, living away from their homes in school/college boardings, etc.
Children and adults frequently attending parties/late-night parties
Children or adults hanging out with a bad friend circle
Working people living away from homes
People working under difficult working conditions including lots of physical and mental stress
People diagnosed with anxiety, depression, or stress
A person who has experienced a physical/emotional trauma in the past, including breakups, failure in work/life goals, etc.
Insomnia patients who find it difficult to fall asleep
An addict who has returned from the rehabilitation center
A child or even an adult may fall into the habit of alcoholism or drug use. Bad influences like TV advertisements, social media, and even other people may easily cause them to fall into the trap of substance abuse. Moreover, due to a busy lifestyle, not everyone has the time to be around a loved one to always guide them about right or wrong. If you are one of them who want to make sure their loved ones do not get indulged or addicted to alcoholism or drug abuse, Alcohol Detection Test and Drug Testing are the answers for you.

Hair Alcohol Testing
Alcohol metabolizes in the body into two different metabolites – the Ethyl Glucuronide or EtG and the Ethyl Palmitate or EtPa, which is a Fatty Acid Ethyl Ester. These metabolites are also found in the hair, followed by alcohol consumption, which forms the basis of Hair Alcohol Testing. Besides the head hair, the hair from other body parts can also be used for this test for tracing the presence of EtG.
Using the Hair Alcohol testing, you can find out if your son or daughter, or any other family member for that matter, has been involved in chronic or periodic alcohol consumption. Learn more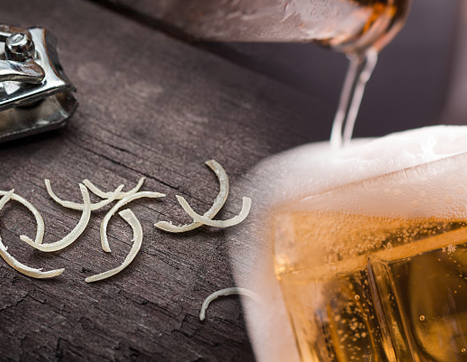 Nail Alcohol Testing
Nail Alcohol Test is another method of finding out the history of alcohol consumption in a person.
The Alcoholism test using nails can give the data for up to 12 months using finger or toenails. EtG or Ethyl Glucuronide is an alcohol metabolite that gets trapped in the keratin fibers along the length of the nails. Testing the nail clippings for EtG alcohol-biomarker can help find out if your loved ones have been indulged in alcohol consumption, excessive alcoholism, or regular alcohol consumption. Learn more
Hair Drug Testing
Hair Drug Testing is an efficient method of finding out if any person has taken drugs over a specific time period. When a drug is consumed, it gets metabolized in the body to act or to be eliminated out of the body. By testing for these metabolites, one can determine an individual's use, habit, or pattern of drug intake. A few strands of head hair or other body hairs are used for the Hair Drug testing to give you the past 12 months' data. Learn more
Nail Drug Testing
The metabolites of a drug reach and get trapped into the keratin fibers of the nails via the blood. These metabolites tend to stay trapped in the nails for quite a long time. For Nail Drug Testing, nails clipped from near the nail bed are used. You can use the nails of only fingers or toenails a mixture of the two. The Nail Drug Testing can reveal a person's event, pattern, or habit of drug intake for the past 12 months. Learn more
Home Drug Testing Kit
You can order our Drug Testing Kit online and test for various drugs from the comfort of your home. The Urine Pot Drug Test Cup is a 14-panel Drug Testing Kit, which is very easy to use. It has integrated temperature strips, which indicate the presence of various drugs in the urine sample of the tested person. Learn more
Present times are highly uncertain, and your children and loved ones may be surrounded by many compelling triggers, which may expose them to substance abuse. The Alcoholism test and Drug Testing can be the best way to find out if a family member is involved in alcohol consumption or drug use. At DNA Forensics Laboratory Pvt. Ltd., we are offering an accurate and reliable Hair Alcohol Test, Nail Alcohol Test, Hair Drug Testing, and Nail Drug testing at affordable prices. Call +91 8010177771 or WhatsApp on +91 9213177771 to book an Alcohol Testing or Drug Testing at DNA Forensics Laboratory.
Summary
Author Rating
Brand Name
Product Name