Cell lines are an essential part of life science research & development. During the early 20th century, animal cell lines have been used for studies in medicine, genetics, cell biology, cancer research & drug development. But did you know that an estimated 18-36% of cell lines are misidentified or cross-contaminated with another cell line? In response to the misidentification of human cell lines, scientists developed methods to authenticate them; however, few assays were available for non-human cell line identification. So, we have developed a multiplex polymerase chain reaction assay targeting nine tetranucleotides short tandem repeat (STR) markers in the mouse genome. Mouse cell line authentication test in India is the most common model system & we perform STR profiling following ISO 9001 and ISO/IEC 17025 quality standards.
If you are looking for a Mouse Cell-line authentication DNA Test in India, you are at the right place. Here, we will guide you through the process of mouse cell line authentication, its purpose, & applications. Basically, Cell Line Authentication Tests verify the identity of the cells you use in your experiments. It often includes ensuring the cell lines are derived from the correct species and donor (the source) and are free from contamination.
How is Mouse STR Profiling done?
Mice have always been the most popular laboratory animal. Mouse cells are used in the biomanufacturing of recombinant proteins & function as feeder cells for embryonic stem cells. Current techniques for identifying mouse cell lines or strains include microsatellite markers [simple sequence length polymorphism (SSLP) or STR markers]. The following case study will briefly introduce how STR profiling has become a gold standard for mouse cell line authentication tests.
Findings of the Case Study done on Mouse Cell Line Authentication published on Springerlink.com
Unique profiles were obtained from 72 mouse samples used to determine the allele distribution for each STR marker. The correlations between allele fragment length & repeat number were determined with DNA Sanger sequencing. The genotypes for L929 and NIH3T3 cell lines were stable with increasing passage numbers as there were no significant differences in fragment length between low passage and high passage samples. In order to detect cell line contamination, primers for two human STR markers were incorporated into the multiplex assay to facilitate the detections of human & African green monkey DNA. This multiplex assay is the first to provide a unique STR profile for each mouse sample & can be used for authenticating mouse cell lines.
Adopting this assay would increase confidence in studies using mouse cell lines, save time & reduce costs by identifying contaminated or misidentified cell lines.
Purpose of Mouse Cell Line Authentication Test
Cell lines have been the cornerstone of life science research for decades. Yet many times, a given cell line may be misidentified. As a result, the researcher uses the same (misidentified) cell line to conduct the research and ultimately do not get the desired result.
A second issue with cell lines is the possibility of cross-contamination, where the contaminant can be a different cell from another source/sample, environmental pollutants, etc.
The third and most crucial problem with cell lines is that they often become genetically drifted with time. A cell may lose its originality during such a genetic alteration and become a different cell. Researchers & experts generally acknowledge that the latter is more harmful than the first two types of errors, as one may not realize that the cells are gradually changing and may continue to get false results.
Applications of Mouse Cell Line Authentication Tests
In traditional cell line authentication tests, isoenzyme analysis and karyotyping were used. However, these techniques were not enough to differentiate intraspecifically. On the other hand, STR profiling is a low-cost, reliable, and easy method for authenticating both mouse & human cell lines. Some of the applications of mouse cell line authentication DNA test in India are listed below:
To evaluate vaccines, antibodies, & other biological compounds: Ideally, an animal model permissive to infection by a target pathogen should mimic the pathophysiology of human disease and should have sufficient reagents available to permit mechanistic dissection of the immune response.
To investigate drug metabolism & gene functions
To perform preliminary screenings
To conduct high throughput screenings (It is a method for scientific experimentation used for drug discovery & applicable to the fields of biology, materials science, & chemistry.)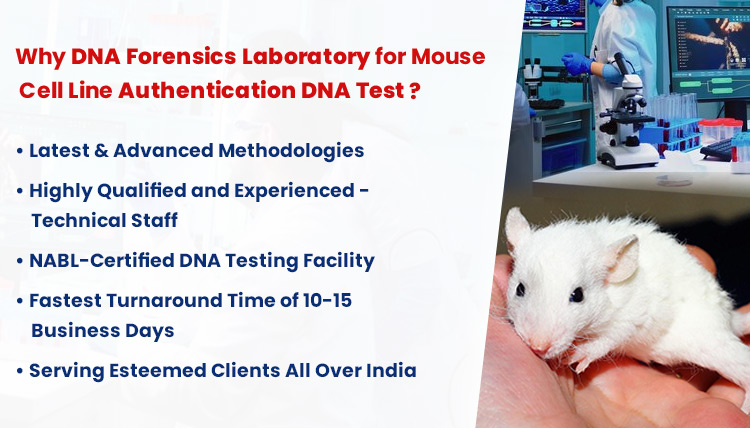 Why Choose DNA Forensics Laboratory for Mouse Cell Line Authentication DNA Test in India?
DNA Forensics Laboratory Pvt. Ltd. is one of the leading companies for an accurate & reliable Mouse Cell Line Authentication Test in India at competitive prices. We offer complete mouse cell line authentication services using STRs profiling. This enhances abilities to detect misidentifications, genetic drifts, and cross-contaminations of cell lines.
We are already working with esteemed research institutes, pharmaceutical companies, & biotechnology companies. Moreover, we are the only company that offers legal DNA tests in India. Along with that, our mouse STR profile report contains:
An easy to understand STR allele table
Electropherograms that support the allele calls at each locus
A comprehensive interpretation of results
A comparison of the cell's profile against the provided database
Other key factors that make us desirable are:
Latest and advanced methodologies for the test
Highly qualified and experienced technical staff
Providing NABL-DNA testing facility
Fastest turnaround time of 10-15 business days
For cell line authentication, client has to send samples directly to our testing facility in New Delhi. For further queries about the Mouse Cell Line Authentication DNA test in India, you can contact us or schedule an appointment by calling the following numbers:
Call: +91 8010177771
WhatsApp: +91 9213177771
Summary
Author Rating
Brand Name
Product Name
Mouse Cell Line Authentication Services in India